Originally founded in Canada in 1998, the Parlay Bingo Network holds the honour of being one of the earliest online bingo solution developers to still be around today anywhere in the world. Although many bingo software providers have designed their bingo games to have a flashy appeal more like a video slot, the bingo titles you'll find online from Parlay have been created to make punters feel as if they're really playing at a real-world bingo hall. This is something which is very appealing to many players who want to emulate the bricks-and-mortar experience.
When the Parlay network was first established, online bingo was in its infancy. However, these days, it's an impressive company that has put innovation at the heart of all it does. With no need for any downloads, Parlay's bingo sites offer a great range of games that are accessible to everyone.
Is Parlay A Trustworthy Provider?

When you play with a Parlay bingo network site, you can be confident that all the games will be honest, high-quality and secure. As most Parlay sites are regulated and licensed by the UK Gambling Commission, players can have peace of mind, and since the company has also been awarded the GLI certificate, you can rest assured that Parlay follows the best practice standards for the bingo gaming industry.
Since Parlay Entertainment has been around for more than two decades, this stands testament to the reliability of this provider. All of the users' personal information and financial transactions are well-protected thanks to cutting edge SSL encryption technology. Also, all of Parlay's games have been rigorously tested to ensure that their results are unpredictable and entirely fair.
Flexible Software
A top feature of the Parlay bingo network software is how flexible it is. Bingo operators are able to adjust the individual features so their individual sites can cater to their own players' specific needs. As Parlay Entertainment are expert developers, they provide creative and versatile bingo software that is hard to beat. Parlay provide customisable front-end site components and back-office modules which can be selected to allow the site operators to manage their own site in their own way.
Parlay's Game Portfolio
Parlay is one of the oldest software providers for bingo sites on the market today, so you can depend on this bingo network to offer numerous options. Of course, you'll find the usual 70 and 90 ball games that come as standard with all bingo operators, but there are also 80 ball games to choose from as well as themed options and speed games. As you'd expect these days, there are also side games to choose from. As well as video slots, there are often video poker and casino table games to play while waiting for your next game to begin.
Bingo on the Move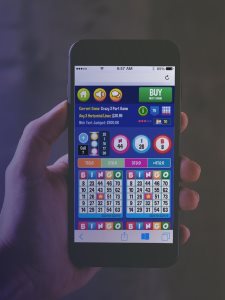 One reason why Parlay bingo network sites are so popular is that there is no need to download any software to enjoy the games. By incorporating HTML5 into the software platform, Parlay has allowed users to play games instantly via any device's internet browser with no need to take up extra device memory. Some Parlay sites do offer a downloadable option too, which gives players more choice to suit their preferences.
Since Parlay network sites have an HTML5 backbone, they're suitable for play on mobile devices. Playable through both Android and iOS devices thanks to the web-based software, punters can enjoy their preferred games on the go no matter where they are or which device they're using.
Appealing Features of Parlay Bingo Sites
Parlay bingo sites offer free play games which are ideal for punters who want to experience the fun of a bingo game without having to spend any of their own money. Free play games allow beginners to find out more about how online bingo works and helps players to decide whether they enjoy a particular bingo room.
Parlay powered sites also offer chat bingo games. These are popular with players who are keen to emulate the real-world bingo hall experience since they can talk to other players, enjoy socialising and make new friends.
Prizes, Bonuses & Promotions
The Parlay Bingo network gives punters access to many excellent bonuses, prizes and promotions. Each Parlay site is responsible for its own offers and deals, but there are attractive welcome and reload bonuses available for both new and existing players to benefit from. Free Bingo Bucks are also offered to many players which can then be used for any of the games on the Parlay site as well as bingo. There are weekly and monthly competitions available to enter with excellent prizes as well as free tournaments which offer cash prizes.
Should Punters Know Anything Special About Parlay Bingo Network Sites?
One thing which punters should be aware of about the Parlay Bingo network is that there have been reports in the past about rogue operators using Parlay software. The company also had a few financial problems in the past; however since a restructure of its business back in 2011, it is now a trustworthy and reliable software provider that you can depend on. The Parlay brand has now increased its customer base across Europe and North America and has established itself firmly as an innovative company. If you choose a licensed and authorised bingo site to play at, you'll have nothing to worry about from a Parlay-powered site.
The Positives and Negatives
Are you thinking about playing at one of the bingo sites which is managed by Parlay? If so, there are some plus points and disadvantages which you should be aware of if you choose to play at a site within this bingo network.
Pros
The Parlay bingo network has been around for a very long time. The company was established as long ago as the late 1990s, so you can be confident that they have plenty of experience in the industry and a long heritage to build on.
There are lots of sites within that bingo network, and this gives punters plenty of different games to choose from. From traditional 75 and 90 ball games to themed and speed options, there are options to satisfy anyone.
As Parlay is fully regulated, authorised and licensed, players choosing a Parlay bingo site can be confident they'll be well protected should a problem arise.
Punters don't need to download software if they want to play at a Parlay site since they are accessible with HMTL5. Although some Parlay sites have a download option, this isn't required to enjoy the games. This means that players can use their mobile devices for bingo games on the go.
Parlay sites offer welcome and reload promotions as well as tournaments and competitions.
There are chat room bingo games available for players who want real-world experience.
Free bingo games are available for punters who don't want to spend any of their own money or who would like to check out a particular bingo room without any financial commitment.
As well as bingo, there are also side games and video slots to choose from with Parlay bingo sites. This gives punters plenty of variety.
Cons:
Parlay bingo has been associated with some financial problems in the past and also with some rogue bingo sites which have been unreliable. Although this was before 2011, these rumours still persist and can deter some punters from choosing a Parlay bingo site.
A Long-Established Operator
If you're looking for a bingo network provider which has been around for a long time and which has proved itself to be reliable, the Parlay network could be the right choice for you. Parlay is an authorised, regulated and licensed software developer, so punters can be confident that they will be well protected in the unlikely off-chance that a problem arises. Since the operator has been around for more than 20 years, they can also feel confident that there is nothing to worry about when choosing to play with such a long-established software developer.
Parlay has a number of popular bingo sites within its network, and that means that players have plenty of choice. There are lots of different bingo games to select from, including 75 and 90 ball options for traditionalists, 80 ball games, themed options and speed games. There are even free bingo games and chat room games as well as promotional offers for both new and existing punters to take advantage of. This ensures there is sufficient variety and flexibility for any player to enjoy.
As Parlay managed sites offer state-of-the-art software, players who play at a Parlay-powered site can benefit from cutting edge gameplay. They can also enjoy plenty of the real-world bingo hall experience that so many players prefer.