Leapfrog is a long-established name within the online gaming industry, and is a software developer which has been responsible for the design of three major websites within this genre – King Jackpot, Bingo Liner and Bingo Café. Leapfrog bingo network sites have something truly unique to offer players, and this is what makes them stand out from the crowd – they offer 3 dimensional virtual interactive gaming rooms. None of their rivals have taken online bingo in this direction and it is for this reason that Leapfrog has achieved such high status within the world of gaming.
Initially established back in 2002, Leapfrog Gaming was an original provider of software to the online bingo marketplace. The company was set up by a group of bingo fans who were keen to bring interactive bingo to the internet and within easy reach of enthusiasts everywhere. This led to the creation of Leapfrog's unique software which gives players a virtual game universe in which they can meet other players around the globe and have conversations while enjoying popular games.
Leapfrog network sites allow players to select their own 3D character or avatar who then physically moves between different bingo rooms, talking to other players on the way. This extra-realistic dimension gives players a more exciting and engaging gameplay experience which explains why their sites, although relatively few in number, after so popular – they offer something completely different in the competitive and crowded online gaming market.
How Safe Is Leapfrog Bingo Network?
Players registering for services at any site within the Leapfrog bingo network won't have anything to worry about in terms of their safety or security. Their financial information and personal data is well protected by cutting edge encryption software, while the network is fully regulated and licensed by the jurisdiction of Alderney. There is one exception to this – Bingo Cabin, which is also licensed and regulated by a recognised authority – Netherlands Antilles.
The Games This Network Offers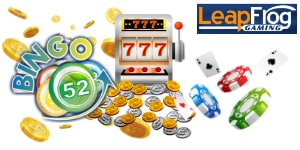 As we've already mentioned above, Leapfrog is well known for its interactive 3D game rooms which allow for interaction between players through avatars. Having taken full advantage of the most cutting-edge 3D technology, Leapfrog incorporated it into their online gameplay experience, giving punters the opportunity to really customise their experience by changing the appearance of their own avatar and actually seeing other players when they are in the same bingo room. This exciting interactive element is what makes the Leapfrog bingo network really stand out, because the actual game varieties on offer are severely limited, only including the standard variations of 75 ball and 90 ball bingo.
That said, the chat element of the bingo rooms makes this network very attractive to those who are looking for a more social experience from their gameplay. The chat option takes places via chat bubbles, which gives a more personal feel to the whole bingo hall atmosphere. You also physically see the name of each other player, allowing you to directly address them when on the gaming floor. Not only can you chat to specific individuals, you can talk to groups. There are also chat hosts which are managers and moderators of the conversations in the room, ensuring that all standards are upheld.
Although the game offerings may be uninspiring, there are plenty of side games and instant-win titles which add some excitement to everyday gameplay at Leapfrog bingo network sites. There are slots and video poker to pick from in between games, and some side games offer large progressive jackpots which makes them even more exciting.
Are Players Well Supported?
Leapfrog ensures that all of the operators under its network umbrella offer their punters the best level of customer service, with impressive support teams available 24/7 to address any issues or answer any queries, whenever they may arise. There is even a help desk facility which can be accessed direct from the gaming lobby, allowing punters to rapidly ask any questions of the support team and check on the progress of open support tickets in the simplest way. There are also plenty of secure and convenient deposit and withdrawal methods available from each Leapfrog site, which makes it quick and easy for players to add funds to their player account and withdraw winnings whenever they wish.
What Can I Expect from the Leapfrog Bingo Experience?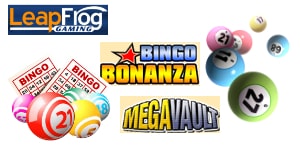 Apart from the 3D avatar experience that Leapfrog sites have to offer, their software offers another, somewhat unwelcome, unique feature. Unlike most of their rivals, the majority of sites under this network umbrella require the software to be downloaded to a device and don't support instant play options. This could be viewed as a major negative strike against this network, since most people these days want the freedom that HTML5 offers. Having to download software means that a substantial amount of memory is taken up, and this also severely restricts access from mobile devices. While this may be seen as a deterrent for some, the fact that the gameplay experience is so unusual and engaging may make the download well worth it for others – it very much depends on your personal preferences.
All of the sites under this network umbrella have a fairly similar appearance to each other, however the format works very well and is extremely simple to navigate, even for newcomers to the game. The feel is quite American, but each room is contemporary and boasts plenty of exciting features that make gameplay with one of these network sites especially appealing for those who want a thoroughly real-world simulation of a bingo hall.
As for bonuses and promotions, Leapfrog's sites do offer some attractive deposit and no deposit deals as well as some free spins in some cases as a welcome offer. There are also refer a friend bonuses available as well as competitions and tournaments to make gameplay even more profitable. As another welcome feature, there is a loyalty rewards scheme with monthly benefits awarded to loyal players.
The Leapfrog Bingo Network – Is It for Me?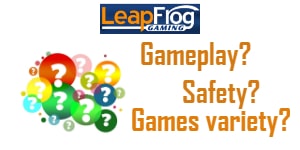 Fans of Leapfrog sites extol the virtues of this rather unique provider of online bingo services. This network certainly does have something truly unusual to offer players, and it really is a love it or a hate it scenario. If you're a fan of the gamification of bingo, you're going to really appreciate the three dimensional experience that these sites can provide. The interactive player elements of being able to select and customise an avatar and then have real time conversations with other players by name can be extremely appealing for those who value the social element of their gameplay. For those whose top priority is the bingo itself, however, there may be better networks to choose. There are limited opportunities here for branching out into a wider variety of bingo game varieties, and with only 90 and 75 ball games to pick from, it can be all too easy to become bored very quickly if not fully engaged with the interactive elements.
Of course, there are lots of other positive elements to consider. The sites are all safe, secure, licensed and regulated, so players can enjoy peace of mind that their details will be safe from cybercriminals and, in the unlikely event of a problem arising, they will have adequate recourse. The sites are also contemporary, easy to navigate, and suitable for even beginners in bingo to use and understand. There are lots of convenient banking methods to choose from, and customer support is second to none, available 24/7 and staffed by a knowledgeable and friendly team.
The biggest drawback for some players lies in the fact that the software isn't instant play and must therefore be downloaded to a device. For players who prefer to do the majority of their bingo gaming on the go, this makes Leapfrog sites immediately a poor choice. For those who do the majority of their gaming from their laptop or PC, it may not be such an issue and they can benefit from the engaging gameplay that is on offer. Another negative point to consider is that there are very few sites within the Leapfrog network. With only a handful of operators under its umbrella, the jackpots will naturally be lower.
When weighing up the pros and cons, it seems clear that if you love the idea of an interactive gaming element that feels more like a video game than actual bingo, you're probably going to enjoy one of the sites in this network. However, if your focus is more on the content of the games themselves rather than on how you participate in them, you may be better advised to look elsewhere for a broader spectrum of bingo varieties and more lucrative jackpots for you to take advantage of.