These days, there's no shortage of bingo software providers, but Cozy Games Bingo Network is leading the way in online gaming. Powering two bingo networks as well as a network of online casinos, Cozy Games was launched back in 2005 and had been growing ever since. After so many years in the industry, this provider has established a strong reputation for excellent bonuses, fun games and reliable payouts. So, what should you know about the Cozy Games Bingo Network? Just because they're a big name doesn't necessarily mean they're the best, so here we tell you everything you need to know about this gaming brand.
Two Popular Bingo Networks Under One Umbrella
Cozy Games runs three different bingo networks: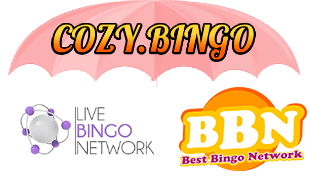 Live Bingo Network – this is the biggest and most popular bingo network using the Cozy Games gaming software. Set up in 2009, this network's flagship brand is Landmark Bingo, although there are more than 60 sites altogether within this network. Some of the biggest brands under the umbrella include Comfy Bingo, Mummies Bingo, Now Bingo and Buttercup Bingo. The sites on this network tend to offer attractive no deposit bonuses together with first deposit match bonuses for newly registered players. There are also lots of other promotions available from this network such as free games, daily jackpots and slots tournaments.
Best Bingo Network – this popular network has almost 5 million players registered for its game services. As the first Cozy Games bingo network, the Best Bingo network offers lots of bonuses and freebies to keep its players loyal and coming back for more. As you'd expect from a bingo network, all the websites under the umbrella are networked, sharing games and jackpots. However, there are distinguishing features for each website in terms of its appearance, feel and bonuses. The Best Bingo Network sites also offer a no deposit bonus together with a slightly higher initial deposit bonus which makes this network, although smaller, a better option for anyone who is keen to benefit from a bigger bonus.
The Lucky Duck Network – this latest addition to the Cozy Games portfolio launched just a few years ago in 2015. Although this network is smaller than Cozy Games' other networks, it is highly unique with some amazing promotions and plenty of value.
A Reliable and Reputable Brand
When you play with any of the bingo sites within the Cozy Games Bingo network, you can be confident that you are playing with a secure and reliable brand. All of the Cozy Games websites are regulated and licensed by the Isle of Man Gambling Supervision Commission and the UK Gambling Commission for your peace of mind. Their banking methods are very safe, and the sites are encrypted to protect players' personal and financial information.
Using Cutting Edge Bingo Software
This bingo network brand has developed game software which is customisable, intelligent and adaptable which ensures it perfectly meets the needs of all its partner websites. The result is fast and immersive gameplay which is sure to impress players no matter which site they choose to play with. By adopting the must up to date technology, Cozy Games have ensured that players enjoy the most advanced gaming experience online today. There's no need even to download any software to your desktop PC – you can just sign into your player account and start to play straight away as long as you have a live internet connection.
The Cozy Games Bingo Network Game Portfolio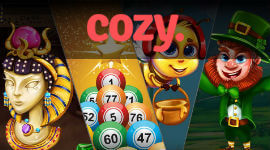 As you'd expect from any reliable and reputable online bingo network provider, Cozy Games offers a wide variety of exciting bingo games to satisfy the needs of all players. Of course, you can expect to enjoy the traditional and popular 90 and 75 ball bingo versions; however, there are lots of other more unusual options to enjoy too. 80 ball and 30 ball games can be enjoyed too, and there are a number of other specialist varieties which allow players to choose from both long and fast-paced games.
Cozy Games doesn't just offer bingo on its many sites. It also offers side games too. These bring even more variety to players who can choose from over 70 types of side game. Whether you prefer slots, instant wins or casino games, there's plenty to enjoy, and although the selection is somewhat smaller than that offered by some other bingo network providers, they can either be enjoyed for real money or with the free play option purely for fun.
Mobile Bingo On the Go
If you're a keen mobile gamer, you're going to appreciate the fact that the Cozy Games Bingo Network has a fully mobile optimized gaming experience. Cozy Games claims to have been the first ever online bingo operator network to offer mobile gambling sites, and whether you prefer to play from a tablet or smartphone that won't be a problem thanks to the integrated mobile solution offered by this provider. Since the bingo games offered by this software developer use HTML5 technology, they're highly responsive to the smaller screen size of mobile devices, and the games are playable on iPhones and Android devices alike – perfect for gaming on the go. Although there are mobile apps available for several Cozy Games Bingo network sites, users with Windows phones or Blackberry handsets will need to rely on the HTML5 version to access their favourite games on the go. The iPhone and Android apps are easy to download and simple to use, with the same cutting-edge graphics as you'd expect from a top-notch bingo network provider. You won't miss out on any of the fun of gameplay when you play from your mobile device with a Cozy Games powered site.
A Network of Shared Bingo Rooms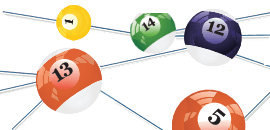 One of the features which the Cozy Games Bingo Network can offer partner sites is the chance to share its bingo rooms. Regardless of which network site you're registered with, you can access the top bingo rooms and connect with the entire playing community across the whole bingo network. This increases the social side of the game – an attractive feature for many players who are keen to emulate the real-world bingo hall atmosphere in the comfort of their own homes. The fun chat function allows players to converse with people who are playing all over the country, allowing for strong relationships to be formed. The result is a player experience which is immersive, engaging and positive. Another major positive point of this shared bingo room functionality is that the resources of the partner sites are pooled together. This means that all players, regardless of which site they're registered with, can benefit from guaranteed real money prizes and huge joint jackpots.
The Positives and Negatives of the Cozy Games Bingo Network
There are both positive and negative points of choosing to register with one of the Cozy Games Bingo Network sites.
Pros:
Cozy Games offers a wide range of different bingo games to suit all kinds of players. From traditional 90 and 75 ball games to fast-paced 30 ball games and the rarer 80 and 50 ball versions, there's something for everyone out there.
This brand is certified, licensed and regulated for the players' peace of mind. Since Cozy Games is regulated by recognised and reliable bodies, their games are reputable and trustworthy.
Lots of sites are operating on the Cozy Games bingo network. That means that there is a solid base of players. The more players there are, the better the prizes and the bigger the jackpots that can be won.
There's no need to download any software to play at Cozy Games powered sites.
There are Apple and Android apps available for many of the Cozy Games powered sites which mean that they can easily be played from mobile devices.
Cons:
The same bingo game titles can be found on all the sites within the network. This could be viewed as a negative point since there is little point in registering with multiple sites as the offerings are virtually identical.
In some cases, the graphics are rather cartoonish and basic. This may not be appealing to all players.
Cozy Games Bingo Network – A Top Contender
Although the Cozy Games bingo network isn't the biggest provider, it is increasing in popularity all the time. More players are registering with Cozy Games sites every year and loyalty is increasing among players thanks to this provider's innovative game designs and the many different sites under its umbrella. Since Cozy Games has been around for more than 10 years, it can be relied upon to offer an outstanding player experience which is trustworthy and reputable. The licensing and regulation from recognised bodies make this provider a reliable choice, and with such a large player community, the jackpots are higher, and the chat rooms are busier.